Time Table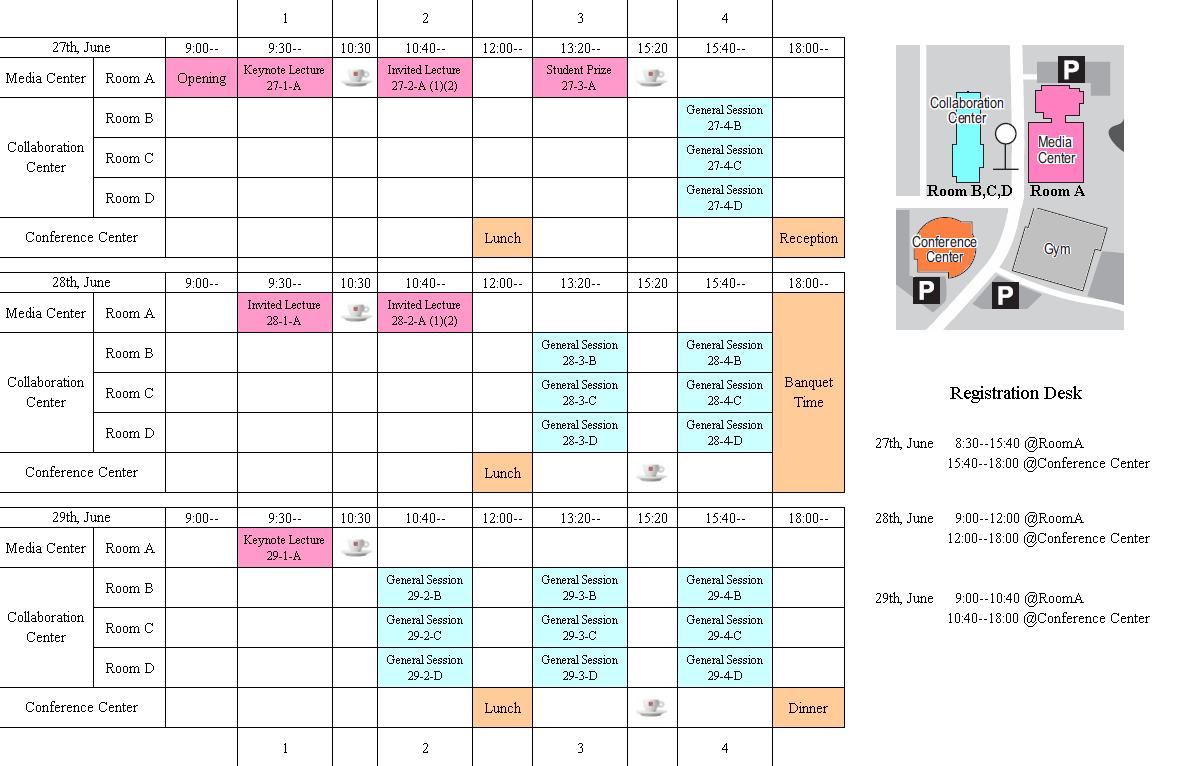 Downlaod
this table
.
Download
PDF version
.
Program & Abstract

Downloads (Last update : June 23)
Registration Desk

Payment is acceptable by Japanese YEN in cash ONLY.

Payment of registration fee is only acceptable by Japanese Yen in cash at the registration desk.
Payment by credit card is unacceptable. We apologize for the inconvenience.
Early Registration will open at 21:00 -- 22:00PM on 26th.

To avoid any confusion at registration desk in the morning of the first day of the conference, early registration desk will be opened from 21PM until 22PM on 26th June.
The desk will be at the lobby of the conference hotel.
Local Committee is looking forward to active participation of lodger of the hotel to Early Registration.
Thank you for your cooperation.
Date
Time
Place
26th
21:00
--
22:00
Lobby (Conference Hotel)
27th
08:30
--
15:40
RoomA (Media Center)
15:40
--
18:00
Conference Center
28th
08:30
--
12:40
RoomA (Media Center)
12:00
--
18:00
Conference Center
29th
08:30
--
10:40
RoomA (Media Center)
10:40
--
18:00
Conference Center
Local Organization
Shin'ichi Oishi (Chair, Waseda University)
Takeshi Ogita (Tokyo Woman's Christian University)
Katsuhisa Ozaki (Shibaura Institute of Technology)
Xuefeng Liu (Waseda University)
Naoya Yamanaka (Waseda University)
Akitoshi Takayasu (Waseda University)
Contact: easiam2011@oishi.info.waseda.ac.jp